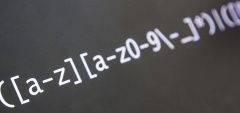 At my work we've lately been having a discussions on email validation. I recalled a post on habrahabr, showing different options, including effective and psycho solutions.
From CPAN:
Mail::RFC822::Address: regexp-based address validation This regular expression will only validate addresses that have had any comments stripped and replaced with whitespace (this is done by the module).
And below is the most effective solution (also matches virtual Gmail addresses with + sign).
To match development addresses, you may want to make it even shorter:
You won't believe me, but this is it =)